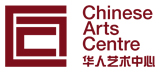 This website is in support of art project I developed when on the Whisper residency at the Chinese Arts Centre, Manchester, UK in June & September 2006. Prior to the residency I was also participating in their Professional Artist Development (PAD) scheme for early career Chinese Artists in the UK. If you would like to find out more about them and their residency programs, you can visit them at www.chinese-arts-centre.org.
June Residency
Before i had started my residency I had done a number of works about my own experiences of transracial adoption. This residency was developed from a very quick idea that had in 2003 as part of my BA. At the time it was not appropriate to do a textual project on a photography course, but I always had visions of making 100's of bunnies, enough to fill a whole room!… instead I did a serious of 5 scans of my bunny. I longed to unlock some secret about my foster family personality through the stitching. I wasn't happy with the bunny scans i did in 2003, so i decide I would revisited it and do a larger series of closeups while on my June residency (below).
The Sock Giver (Birth Parent)
At the beginning of the residency I asked people to donate second hand (clean) socks. The socks ranged from new x-mas presents to socks that have been worn through with holes. The sock donators were asked to give the sock a name, a sex and a history if they knew it. As i hoped not all the donators know the origins of their socks which I wanted to reflect gaps in adoptee histories.
The Artist (Foster Family)
I chose 20 socks/pairs and set out to creating bunnies. Using the same style as the bunny that was given to me, each bunny took on average 2-4 hours each through machine and hand stitching depending on the material of the sock. Definitely a challenge of two weeks of constant sewing. You can find out how to make a bunny yourself illustrated on the [INSTRUCTIONS] page.The act of repetition is a common method throughout my practice. I feel by repenting something, not unlike meditation, I can fully immerse myself in a singular concept.
I also took a set of images for each bunny around the Chinese Arts Centre in my day to day life during my stay. The photos only featured the bunny and no one recognisable to mimic the photos by my foster family, which can be seen on [ABOUT] page.
September Residency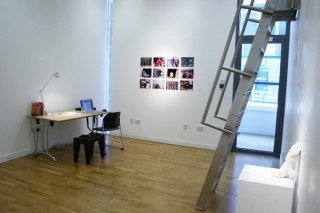 The Website & Open Studio (Adoption Agency)
After my June Residency I wanted to find a way to give the project more depth and interaction. I decided to make a website with details of each bunny. I also wanted adopters to be serious about the commitment of adopting. Adopters were obligated to blog on the website with their time with their bunnies for two months. This blog was to act as "check ups" that are done in real adoptions by agencies. You can see all the bunnies and the blogs on the [BUNNIES] page.

The studio was also used as a safe environment where I meet up and talked to people about adoption. Before this project i had little connection with the adoption community so i welcomed vistas by adoptees, adopters and birth parents for informal meetings. Taking with visitors tot he gallery, it struck me how many people's lives are touched by adoption.

Bunny Adopters (Adoptive Parent(s))
Any visitors to the gallery were given the chance to adopt a bunny. I wanted to challenge people's ideas about adoption while at the same time make the concepts accessible. I like to draw on childhood in my work and i knew that people would think these bunnies were cute. Many people actually wanted a sock bunny, however when I explained the commitment to update the website it put many people off, as i'd hoped. I also wanted to act a little bit like an agency and not approve everyone willing to adopt.

I asked approved adopters to either pick a bunny or I encouraged a match. Bunny adopters were asked to sign terms and condition. While the paper work was meant to represent the large amount of paper work involved in the real atoning processes, the paper work actually did serve as a terms & liability document for me and the project. You can see a copy one the [PAPER WORK] page

Successful adopters were given a sock bunny, a set of small printed foster photos, an adoption certificate and a an info sheet from After Adoption (for they are based in Manchester). You can see photos of most of the adopters below.
Post Residency
This residency was pivotal in my career. Since leaving university i had ambitions to work more closely with the adoption community and my art. This project gave me the confidence to do that. I now do talks & art workshops in the adoption world. Through submitting a bunny image into an adoption book i now collaborate on Adopted the Comic with the editor of the book I was asked to revisit the sock bunnies project for an exhibition plAAy – Contemporary Asian Art in Blackburn 2008. It was a very fitting match with the themes of childhood and play. See more in on the.  [EXPOSURE] page.
This is not the end of sock bunnies, i hope to do other projects with it in the future. One idea i have is a huge sock bunny as a patch work of socks with history of each sock for an installation sculpture type thing, but thats for another time =).